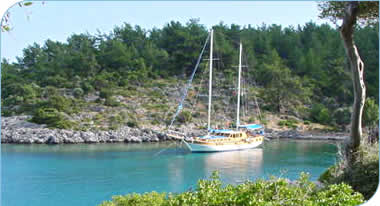 You haven't really seen the sea, sun and moonlight until you've taken a "Blue Cruise"...
The wonders of Turkey don't end at the water's edge. The shoreline is a land of sheer cliffs framing crystal-clear coves, wetlands teeming with aquatic life, deep green forests contrasting with the subtly shifting pale greens and vivid blue hues of the magical Mediterranean and awe-inspiring Aegean... There's no better way to explore this part of Turkey than to cruise along the rugged coastline by yacht. In this program, we give you the opportunity to embark on a Blue Cruise, an idyllic experience that goes far beyond simply being a boat trip. We provide a wide range of options so you can choose, plan and enjoy the journey that best suits your interests, time restraints and budget. Optional side trips include excursions to some of the most striking sites in the world. Relax, marvel at the glories of the Mediterranean and Aegean. And leave the rest to us.
Cabin Charter

When you take one of our Cabin Charters, you're guaranteed the highest quality, authentic Bodrum-built yacht staffed by a professional crew and licensed, English-speaking captain. (Other languages available on some tours). We select our yachts to provide maximum comfort and standard features include spacious cabins, full toilets with shower, television, stereo system, on-board chef and more. Our 3 - 4 night cruises are designed to offer just the right balance of relaxation and sightseeing and have been created on the basis of many years of experience.

Crewed Yacht Cruise

On your own personal Yacht Charter, you select your yacht based on your specifications from the Bodrum-built yachts we have selected. From air-conditioned luxury yachts complete with Jet Ski, fishing radar, dining suite and master cabin to more traditional yachts for those in search of the fully authentic Blue Cruise experience, we tailor your yacht to your desires. And from the course you take to the time you spend in each of the Mediterranean's idyllic bays, this is your experience and if you want your captain to speak French and not English, or your chef to be an expert in Mediterranean vegetarian cuisine, tell us what you want and we'll make it happen.

| | |
| --- | --- |
| | Information about range of boats best suited to your Blue cruise, especially traditional gulet. |

| | |
| --- | --- |
| | Take a closer look at the beautiful luxury yachts featured on ITS cruises. |